10 reasons to walk the Camino de Santiago with us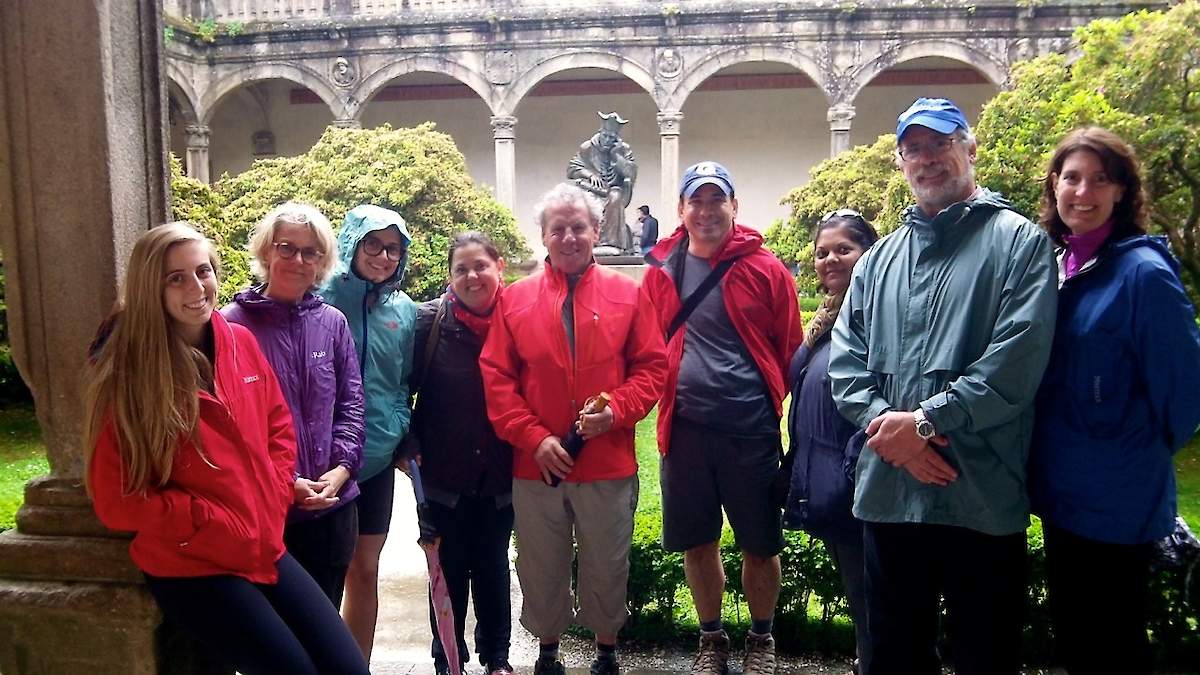 10 reasons to walk the Camino de Santiago with us
Some people make the 500-mile journey across Spain for the Camino de Santiago once in their lifetime, walking for over a month in a self-led manner, often staying in the government run hostels (called refugios) built to support pilgrims, carrying their packs on their backs.
Although this traditional way of walking the Camino provides an amazing experience, many prospective pilgrims worry about the finding the best routes of the walk, finding accommodations and restaurants, transportation, and having support when needed.
When traveling with Duperier's Authentic Journeys, we take care of all of your needs, all you need to do is walk and enjoy the Path. You will walk a section of the Camino will full logistical support, while seeing the most interesting and inspirational sites that the route has to offer, all while eating the best food and staying in the most comfortable, accommodating hotels.
We include virtually all costs in the price of your trip and provide many amenities that others do not. Here are reasons why you should choose us as your luxury tour guides:
Stay in the most comfortable, accommodating hotels: We stay at the finest accommodations available in each town. We use first-hand experience and expertise to carefully select quality hotels that provide excellent service and comfort. Each hotel has its own unique charm and provides a glance into Spanish history, enhancing the overall Camino experience. In general, they are 4- or 5-star hotels and inns with double occupancy hotel rooms each night of the tour.
Try the most delicious, authentic Spanish cuisine and wine: We provide you with all meals (breakfast, lunch and dinner) and snacks along the way, with the exception of three meals. Your meals will be delicious and appropriate food to keep your energy level high for the walk. You will sample the best food and wine Spain has to offer, and will tour a winery and participate in a wine tasting.
Have a bilingual English/Spanish-speaking guide with you all along the Way: Never worry about finding your way around Spain! Juan Carlos and/or his English speaking staff will walk with the group each day. Also, receive private tours of León and the Monasterio de Samos with professional English-speaking guides. Pilgrims also have the option to experience tours of Madrid and/or Finisterre and surrounding areas for those who choose the extra first day in Madrid and/or final day in Finisterre.
Take private transportation to each destination: We provide you with private car transportation from Madrid-Barajas Airport to Léon, along with private bus transportation, support, and luggage transfer throughout the trip.
Never worry about keeping track of your luggage: Luggage will be transferred from one hotel to the next using the private bus so your luggage will not be in the hands of strangers. All you need is a small "day pack" to hold water bottles, a camera, personal belongings, etc. that you want to keep with you.
We are always amply prepared for an emergency: Spanish Mobile phones are provided during the tour so that you can reach Juan Carlos, the bus driver or anyone else for emergency assistance while you are walking. We will have snacks, water, first aid kits and everything necessary for emergencies stored on our private buses. Lastly, we provide travel health insurance throughout your stay.
We help you prepare ahead of time, so you may experience the Camino worry-free: We will send you a packing list with recommendations on what to bring along on your trip, including answers regarding laundry, tips, and other useful topics. We also help you prepare for walking with recommended walk training list (link to blog). You will also receive an information booklet and daily route map to take with you along your walk.
Customize your tour: As a small, family-owned business, we are able to work with your directly if you are unable to participate in an existing tour and have a group interested in walking any part of the Camino de Santiago. Just contact us and we can design a tour specifically for you. A custom tour is an excellent option for families, friends, schools, universities, or companies. You can choose your own itinerary, program, and dates – we will work with you to fulfill your unique needs.
Take part in our Educational Tours: Learn about the history, art and culture of the Way of St. James, and experience walking it in extraordinary luxury. Immerse yourself in the Spanish heart of the Camino! Our educational tours run in collaboration with the International Courses department of the University of Santiago de Compostela (USC) are unique. You will have the chance to learn about the Spanish language and history of the Camino with University faculty, both in the classroom and around the city of Santiago. Then, you will complete the experience by joining us on a seven day walking tour you won't forget.
Experience the Camino in a carefree, luxurious way: You can walk to experience the sheer beauty of the land. Or walk to take time out to reflect on your life or to help you find direction at a "fork in the road." Some may walk to immerse themselves in the food, wine and culture of Spain. Many walk as an expression of their spirituality, and to feel more in touch with nature and the world we live in. And sometimes, you walk just to get away from it all and relax in the beauty of Spain! Whatever your motivation, you are welcome to walk with us. As veteran pilgrims, what we can tell you is this: the Camino has something for everyone. Our goal is to allow you to experience the Camino in the way that is right for you, with no worries or hassles along your journey.
Choose your Tour now and get started on your adventure. If you liked this post, learn about one of our amazing accommodations at the Palacio de Canedo and the delicious cuisine of the Camino in Palas de Rei and Arzua.
Did you like this article? Share it with your friends:
---