Camino Christmas gift ideas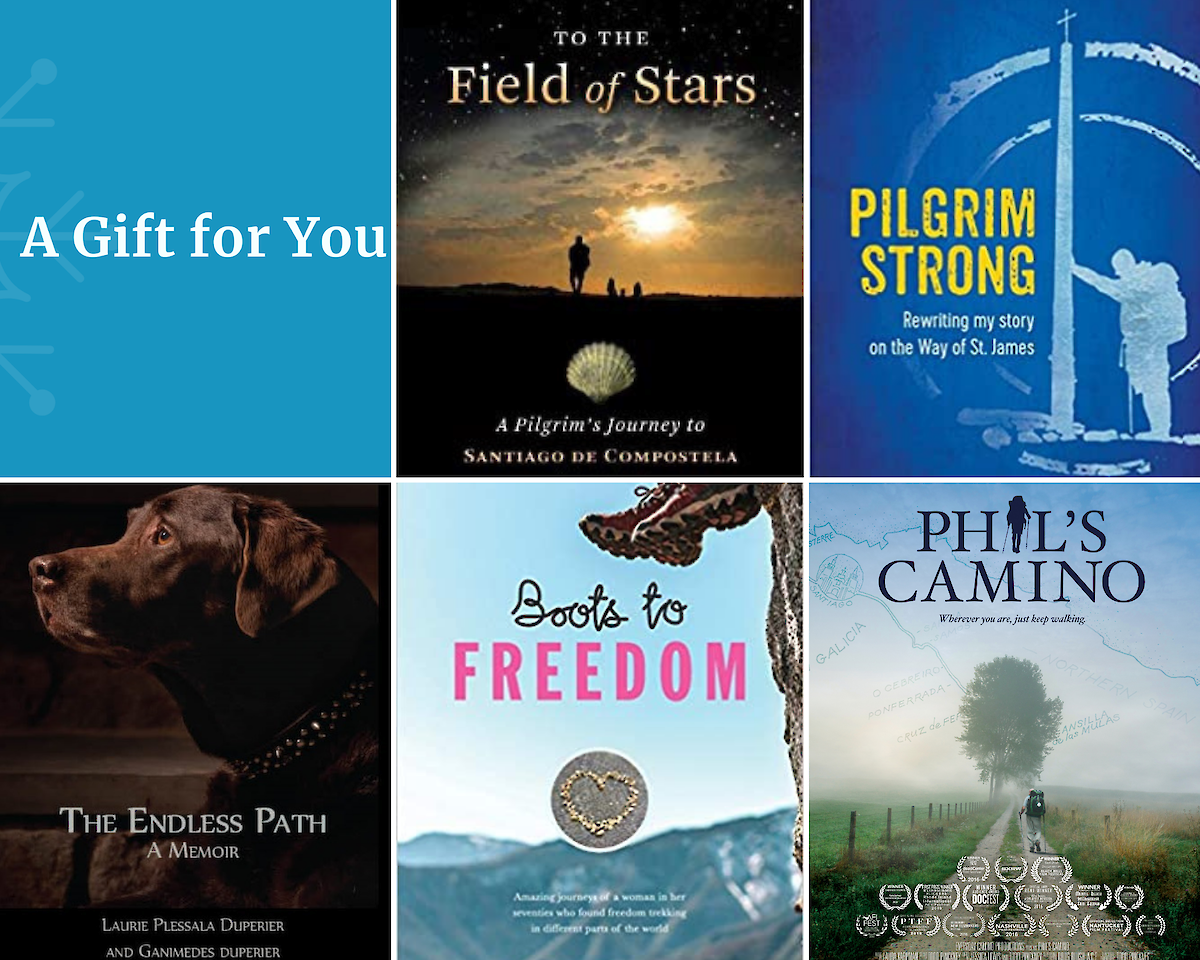 Camino Christmas gift ideas
If someone you love loves the Camino why not treat them to a Camino-themed present this holiday season?
December is here and we have some suggestions for Camino-related stocking fillers to celebrate Christmas and beyond.
We recommend the book and film 'I'll Push You' about two friends Justin Skeesuck and Patrick Gray who tackled 500 miles on the Camino de Santiago in a wheelchair.
For anyone who loves reading, 'To The Field of Stars' by American priest Kevin A Codd, tells the story of his first pilgrimage along the Camino from Saint-Jean-Pied-de-Port to Santiago de Compostela. If you've already read this then try his follow-up 'Beyond Even the Stars', which follows him on the Way to Compostela from Leuven, Belgium, and follows it south through much of France.
For a taste of Spain, take a visit to La Tienda. There you can enjoy a taste of Spain by ordering Spanish foods like jamón (cured ham), turrón Christmas candies, chorizo sausage, olive oil, nuts and cheeses. And if you want something really special the online store sells gift sets and even paella kits.
Another gem for book lovers is 'Pilgrim Strong: Rewriting my story on the Way of St. James' by journalist Steve Watkins, which recounts the life lessons he learned while walking the Camino.
Dog lovers will like Laurie Duperier and Gunny's book 'The Endless Path': This title is for people who love, especially Camino lovers and dog lovers. Laurie wrote this memoir with her beloved dog soulmate, Gunny. It reflects their journey of the heart and eternal connection, with the Camino's influence on their lives as a backdrop. Laurie is also offering to sign and dedicate copies.
If you're looking for something special as a Camino memento, check out the beautiful wooden signs and plaques made by Thomas Wynne at his Etsy shop. He also makes custom designs.
If you're thinking ahead to 2021 on the Camino, what better than to give a gift certificate to tour with Duperier's Authentic Journeys. We can mail or email you a gift certificate in any amount that can be redeemed on any tour where there is availability. Just email us at [email protected].
That special someone in your life will appreciate a Camino keepsake in the form of a piece of jewelry made by pilgrim Frank Maiolo. Frank makes rings, pendants, earrings, and bracelets.
Stephan Hossbach's 'Camino de Santiago Coloring Book' provides a unique way to bring back memories of The Way. It features 26 scenes of the St. James Way that you can colour in yourself to create beautiful keepsakes while reliving your pilgrimage.
For an uplifting story about everyday people doing the extraordinary, watch 'Camino Skies'. The movie tells the inspirational journey of six pilgrims from New Zealand and Australia who embark on the pilgrimage. In the face of overwhelming odds, the Camino forces the group to defy their age and physical ability as they each come to terms with recent loss.
Veteran pilgrim Claude Tranchant and author of 'Boots to Bliss' has published a new book, 'Boots to Freedom', which tells how after her first Camino pilgrimage she got the walking bug and went on to trek in France, Spain, Portugal, Nepal and Australia.
The documentary short 'Phil's Camino' is a must-see for anyone who has done or would like to walk the Camino. Join Phil, who will awe and inspire you, on his journey both in the acres behind his house on Vashon Island, Washington where he constructed his own Camino and in Spain. Phil lives with Stage IV cancer and will fill you with the love and peace that he has found for himself.
Did you like this article? Share it with your friends:
---