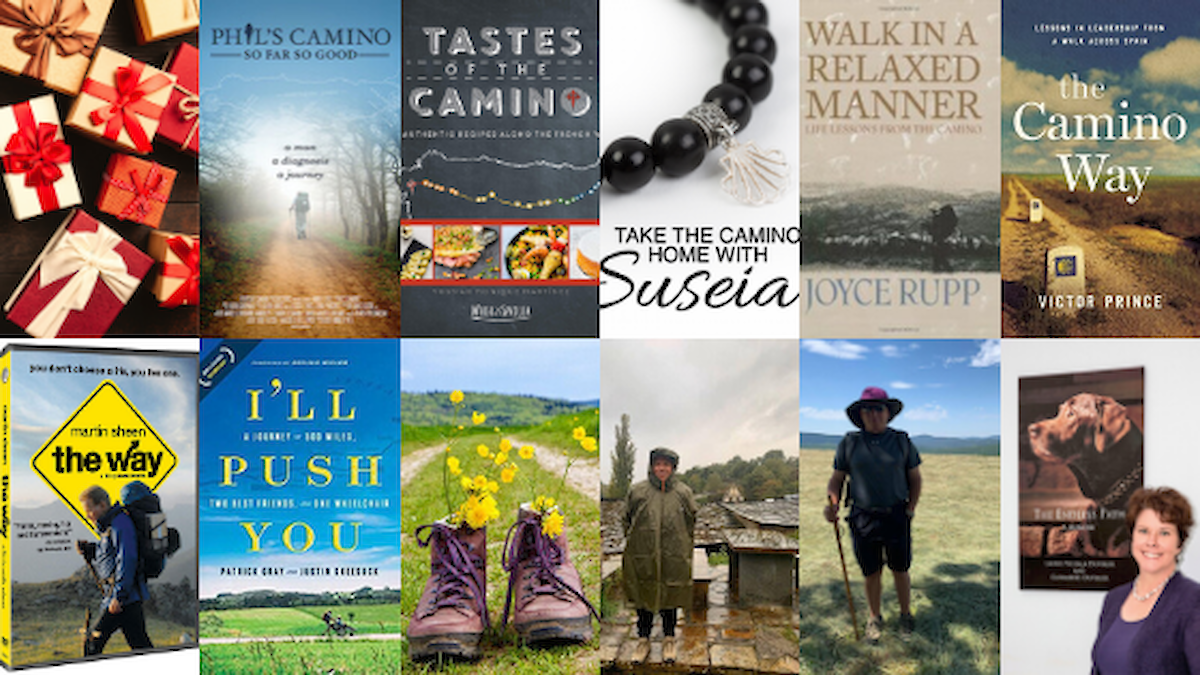 Camino Christmas gifts
We have some ideas for Camino-related stocking fillers to celebrate the 12 days of Christmas and beyond.
On the first day of Christmas, give a gift certificate to tour with Duperier's Authentic Journeys. We can mail or email you a gift certificate in any amount that can be redeemed on any tour where there is availability. Just email us at

[email protected]

.
On the second day of Christmas, we suggest watching the inspirational documentary 'Phil's Camino'. Phil lives with Stage IV cancer and will fill you with the love and peace that he has found for himself. The film follows his journey both in the acres behind his house on Vashon Island, Washington, where he constructed his own Camino, and in Spain. Other cool pilgrim gifts include a pocket book by director Annie O'Neil called 'Everyday Camino with Annie' and a copy of the movie 'Walking the Camino: Six Ways to Santiago.'
On the third day of Christmas get cooking with Yosmar Martinez's cookbook 'Tastes of the Camino'. We know that if you walked across Spain you ate some delicious food! After her pilgrimage, Yosmar decided to write a recipe book with some of her culinary favorites from each region along the Camino Francés (French Way). It's available on Amazon but if you order directly from Yosmar you can get a signed and dedicated copy.
On the fourth day of Christmas, try out a handmade bracelet made with earth from the Camino. These unique handmade bracelets, called Suseia (meaning 'Onwards'), are only available from Project Camino. The beads represent the journey along the Way. It is a great memento for pilgrims. Please allow sufficient shipping time as they come from Australia.
On the fifth day of Christmas, check out Joyce Rupp's book, 'Walk in a Relaxed Manner: Life Lessons from the Camino'. 'It was not until we returned home that layer upon layer kept being peeled back. Underneath all the layers was one major truth for me: I had to let go of trying to control and have everything go the way I wanted it to go. I needed to look at how I did my life, not so much what I did with my life.' Rupp captures how your journey starts long before you get to the starting point on the path. It starts when you commit to walk the Camino, and really gets in swing when you begin physical training. Another title to consider is 'The Camino Way: Lessons in Leadership from a Walk Across Spain' If you are looking for how to implement some of the lessons of the Camino in your professional and personal life, look no further. Victor Prince's best-selling book is a great read.
On the sixth day of Christmas watch 'The Way', a movie starring Martin Sheen and directed by Emilio Estevez. Sheen plays Tom, an irascible American doctor who goes to France to deal with the tragic loss of his son (played by Estevez). Rather than return home, Tom decides to embark on the St James Way to honor his son's desire to finish the journey. What Tom doesn't plan on is the profound impact the trip will have on him. Through his unexpected and often amusing experiences, Tom discovers the difference between 'the life we live and the life we choose'.
On the seventh day of Christmas, we recommend the book and movie 'I'll Push You'. In 2014, lifelong friends Justin Skeesuck and Patrick Gray did the impossible: Together they tackled 500 miles on the Camino de Santiago in a wheelchair. They tell their story in their book titled 'I'll Push You' and an award-winning film of the same name.
On the eighth day of Christmas, start thinking about the things you will need to walk the Camino. Be prepared and buy a rain poncho to stay dry and keep smiling, just like our model is!
On the ninth day of Christmas, get walking! Your walking shoes will be your best friends on the Camino. So make sure you invest in a good pair and break them in before you start out on the St James Way.
On the tenth day of Christmas, think about what hat you will wear on the Camino. We recommend a wide-brimmed hat that will help protect your ears and the back of your neck from the sun and rain, and have breathability.
On the eleventh day of Christmas, think of how to record your memories of the Camino forever by commissioning a painting from a photograph by an artist like Kate Spencer-Millan. Kate has completed the Camino twice and plans to do so again. The trip changed her life and she loves to keep the Camino alive by painting it.
On the last day of Christmas, join Laurie, Juan Carlos, and Gunny along 'The Endless Path'. This is a book for people who love, especially Camino lovers and dog lovers. Laurie wrote this memoir with her beloved dog soulmate, Gunny. It reflects their journey of the heart and eternal connection, with the Camino's influence on their lives as a backdrop.
Did you like this article? Share it with your friends:
---