Our wines along the Camino de Santiago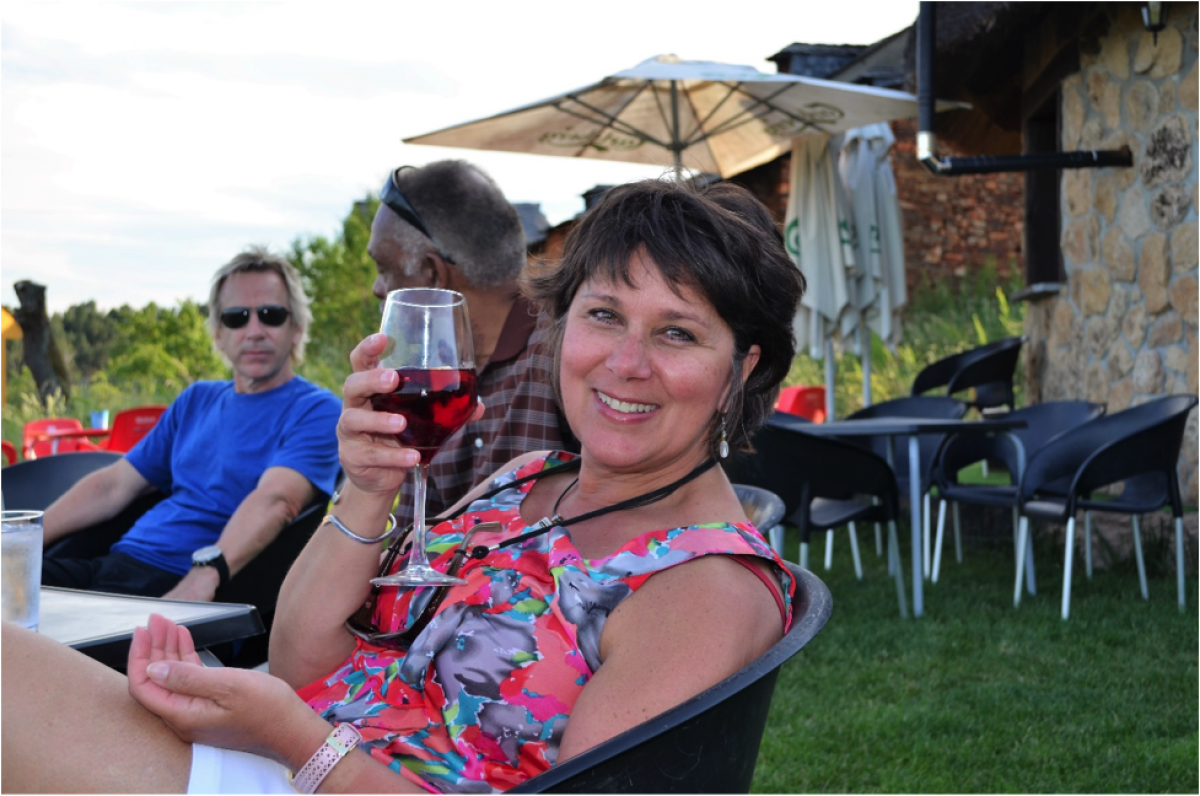 Our wines along the Camino de Santiago
Since time immemorial, and due to its close connection to monasteries, the Camino de Santiago has always provided an incredible enology experience. Many of the grape vines in the winery regions that we cross during the Camino were brought to the Iberian Peninsula by old pilgrims. This is why many of the wine production areas around the monasteries were born in the mythic and magic hands of the Camino.
While we walk, we cross many of the most famous and internationally recognized wine regions or official origin designations (D.O.): Rioja, Ribera Del Duero, Bierzo, Toro, Valdeorras, Albariño, and Ribeira Sacra. Each region has a different and unique climate that brings out a wine's distinct tasting features.
We want you to be part of this wine experience, along with its culture and gastronomy, and that is why we carefully select the best local wines so that you can taste their distinctive features paired with the best local food. For the wine lover, this experience, including exceptional landscapes, monuments, culture, and history of this world-famous pilgrimage, will be unique.
Today we want to give you a brief description of five of our favorite wines ­– three white wines and two red wines – that we usually select to pair our meals in our tour from León to Santiago. We will be posting more about wines and the rest of the wine regions in our blog soon.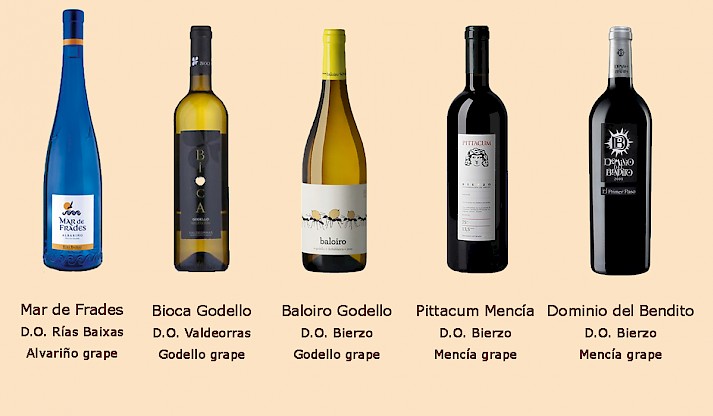 White wines
Considered one of the most respected white wines in Europe, this is a young white wine with an Atlantic soul from the single variety of grapes "Alvariño" (a grape variety brought by Cluny monks in the 12th century to Galicia), coming from the first wine press. Fresh and fruity, with quite a different taste and an intense bouquet, Mar de Frades tastes of peaches, white grapefruit pith, and from time to time has the salty air of the sea as a marine reminiscence: an Albariño full expression. It is bottled in blue glass, in honor of the ocean that embraces the vineyards, which causes this wine to pair harmoniously with seafood.
Awarded the best white wine of the world, seventh in all categories in 2016, and second best wine of the world in all categories in 2015, Bioca Godello comes from a small family winery founded in 1954 in the natural gateway to Galicia, a fertile land of transit and destination of Roman legions that first planted vines and built wineries. Made from 100% Godello grapes, this award winning wine has a bright and lifted nose with intense lemon, ripe lime, and a hint of orange blossom. With its mojito nose, slight spritz, and pine nut richness, it is the perfect spring wine, similar to the fashionable Albariño but with a fruity character you don't typically find in that wine. This wine is often out of stock, but we always manage to reserve some bottles for our pilgrims.
Another family owned winery brings us what the earth gives: diversity of soils from plots with a gentle slope, with deep alluvial soils formed by granitic sands and clays, and vines over 50 years old that are harvested by hand at an altitude of 1800 feet with minimum time between the harvest and the arrival of the grapes to the winery. The palate is warm, elegant, and complex, with the aroma of white flowers and citrus notes of barrel assemblies. Bierzo has a micro climate that is very beneficial for viticulture, typical of the Mediterranean with mild temperatures and mild winters that Romans and later Cistercian order monks saw during the Middle Ages when they started producing wine in this area.
Red wines
Pittacum reflects a deep passion for wine that led some friends from Ponferrada to join forces and concentrate on the indigenous black grape variety, Mencía, with the clear intention of showing that their local wines had plenty of personality. The whole vineyard area is given over to Mencía grape-growing (a grape variety associated with El Bierzo) and run on principles adhering to organic farming methods.
This winery proudly stands by the fine attributes that endow the wines with their distinctive personality: refinement, complexity, attractiveness and harmony. Pittacum, the bread and butter of the winery, reflects their origins to perfection, with qualities acquired from their hilly terrain and local climate, as well as displaying the Mencía grape's true character. Pittacum 2009 has a garnet color of medium intensity. In the nose, it has ripe fruit combined with toasty notes of coffee with the complexity of carob, eucalyptus, earth, and cedar.
Pittacum Mancía is fine and sweet with hints of milk chocolate aromatic set. The palate has breadth, with already polished tannins and a freshness that accompanies the journey from start to finish. Chocolate, licorice, and black fruits blend into a long aftertaste that will deliciously pair with wild game dishes, stews and all types of creamy rice. We select this wine because is a very good reflection of the area and of the variety.
The winery Dominio del Bendito was born in 2004, as the result of the passion of a young Frenchman who had been looking for a great vineyard that allowed him to make wines of great character after having made wine in some of the world's most prestigious arenas, and he found the vineyards of his dream in Toro.
Wine has been made in El Toro, a northwestern region of Spain where we start our tour, since the end of the first century BC, when ancient Greeks taught local Celtic tribes. Today, it still remains one of Spain's most exciting wine regions.
El Primer Paso (The first step) is a perfect introduction to Toro wines with the Tinta de Toro grape variety. An open nose of black and red fruits. It is a well-structured and round mouth with polished tannins and a long and tasty end. The register is aromatic on the palate: red fruits, blackberry, a touch of liquor ice, coffee, and roast notes. It is aged for at least six months in American and French oak barrels. This good balance between them, allows for a very nice and tasty wine, a Toro that gives a lot of pleasure in its youth and also ages very well. This is a mouth-filling, powerful red although it doesn't feel heavy.
The Camino will likely bring you an appreciation of Spanish enology as part of Spain's culture and diversity.
If you liked this post, you may also like to read:
Did you like this article? Share it with your friends:
---