Tastes of the Camino de Santiago: A cookbook that reflects an authentic journey like ours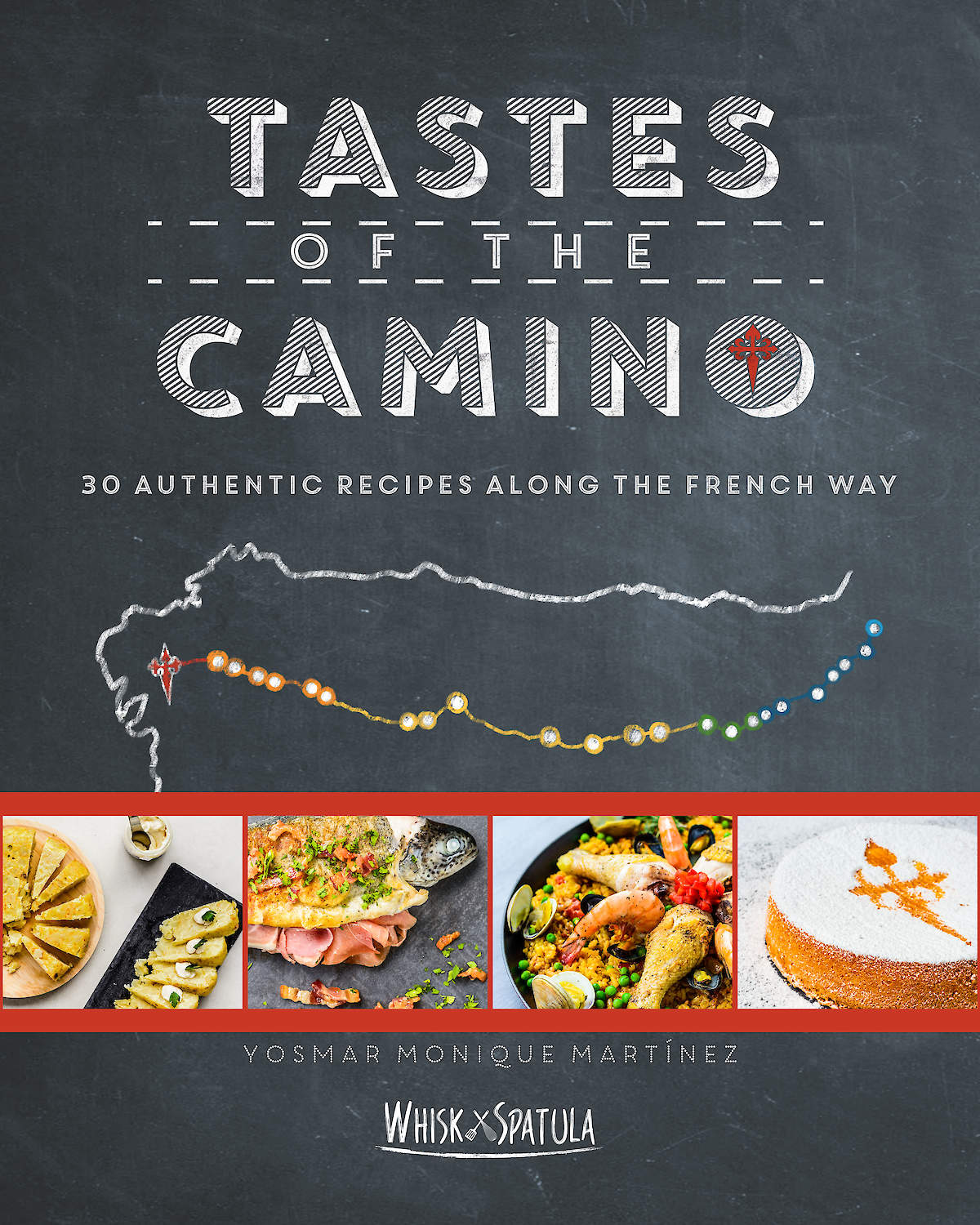 Tastes of the Camino de Santiago: A cookbook that reflects an authentic journey like ours
I first walked the Camino de Santiago from St. Jean Pied de Port to Santiago in 2011. In the midst of my planning, a friend suggested I write about my Camino experience. While appealing, I knew that many personal accounts of the Camino had already been published. If I were to undertake the laborious process of writing a book, I wanted to be sure that it would be different from what already existed. It wasn't until after I returned from my first Camino and when I realized most of my Camino memories involved food that I realized I should write about the food of the Camino. In hindsight, it seems kind of obvious as I attended culinary school at Le Cordon Bleu in Paris, I'm passionate about everything related to experiencing food (learning, preparing, and eating it), and I enjoy sharing my knowledge of food with others. After all, when food brings people together, it is joy in its purest form!
So I embarked on the Camino Frances once again looking to learn more about the foods I had fallen in love with during my first Camino and which I wanted to be able to recreate in my kitchen as well as teach others to recreate in theirs. I not only was in the quest for the best of my favorite dishes in each region, I also wanted to hear directly from the people preparing these foods to learn the techniques. As it is common in the Camino, the locals were quite generous with me, welcoming into their kitchens to chat about the foods they had just prepared for dinner and sharing tips and tricks to ensure a great result.
In the French Basque country, or the Pays Baque, I was reintroduced to two basque dishes I had learned to prepare in culinary school: Poulet a la Basque (chicken stewed in peppers) and Gateau Basque (creamed filled almond cake). I consider both of these dishes to be part of my "Camino baptism" as they were my first meal both times I walked the Camino Francés.
As I walked into Navarra, an area full of rivers and streams rich in oxygen, I was introduced to some amazing fish dishes such as Trucha a la Navarra (pan fried Trout stuffed with Serrano ham) and Bacalao Ajoarriero (Salt-cod, stewed with tomatoes, peppers, and onions.) And of course, I embraced the pintxo culture that Pamplona is famous for. Finally, I gained a newfound appreciation for hearty soups that are pilgrim favorites, such as Sopa de Lentejas (Lentil Soup).
With its rolling hills and red clay soil, Rioja is home to some of Spain's best wines. As such, many don't necessarily associate it with food. But one of my favorite things of the food culture in Spain is that of enjoying a good glass of wine with tapas. And it was in La Rioja, that I had some of my favorite Spanish small plates such as Croquetas de Jamón Serrano (Serrano ham fritters), and Gambas al Ajillo (garlic shrimp). In addition, I indulged in a dessert that pays tributes to the great wines of the regions, Peras al Vino Tinto (Pears poached in Red Wine).
As I journeyed through the plains of Castilla y León, I was introduced to some more nourishing, quintessentially pilgrim soups, such as Sopa de Ajo (Garlic soup) and Sopa de Trucha (Trout Soup). In addition, I broadened my entertaining repertoire with a variety of milk-based desserts such Leche Frita (Fried Milk) and Natillas (Sweet Creamy Custard).
As I explored Galicia, the final region of the Way and home to Santiago, I grew fond of the vast variety of seafood, such as Chipirones a la Plancha (Grilled Squid) and Pulpo a la Gallega (Galician-style Octopus). In addition, I was introduced to the dessert that I consider most emblematic of the Camino, Tarta de Santiago (St. James Almond Cake). And finally, I learned about the rituals behind the Quemada (flambéed Galician liqueur).
All these recipes can be found in my cookbook, Tastes of the Camino. View a sample recipe of Tarta de Santiago.
For those of you who have walked the Camino, I hope the thirty recipes in this book allow you to relive some of your Camino food experiences at home and bring back wonderful memories of meals shared with other pilgrims, an integral part of any Camino. For those of you who have yet to set foot on the Camino, perhaps these recipes will give you one more thing to look forward to while embarking on one of the most meaningful life experiences. All the recipes were developed for the home kitchen using common tools found in it.
¡Buen Provecho y Buen Camino!
Did you like this article? Share it with your friends:
---