The Camino de Santiago. The Way of St. James. It is an always beautiful and often magical path through the north of Spain, infused with the energy of people who have walked it for over a thousand years.
From first class accommodations to delicious Spanish meals, our job is to take all the worry and planning out of your trip so that you can fully enjoy your walk through the Spanish countryside. We do everything but the walking for you!
Learn more about us Read what they say about us
Walking the modern-day Camino with us
The Camino in Spain begins in the Pyrenees and ends in the city of Santiago de Compostela. Although the Camino is Christian in origin, people of all faiths or no particular faith walk it today. There is no "right" reason to walk the Camino. You walk it for you own personal reasons in the manner that feels right for you.
The How
Some people make the 500-mile journey across Spain once in their lifetime, walking for over a month and often staying in the government run hostals (called refugios) built to support pilgrims, carrying their packs on their backs. Others walk the path in sections, returning again and again, and stay in historic places, sampling the best of the food and wine that Spain has to offer. Our tour offers the latter: you will walk a section of the Camino with full logistical support, eating and sleeping in the best places each town has to offer.
The Why
You can walk to experience the sheer beauty of the land. Or walk to take time out to reflect on your life or to help you find direction at a "fork in the road." Some may walk to immerse themselves in the food, wine and culture of Spain. Many walk as an expression of their spirituality, and to feel more in touch with nature and the world we live in. And sometimes, you walk just to get away from it all and relax in the beauty of Spain!
Whatever your motivation, you are welcome to walk with us. As veteran pilgrims, what we can tell you is this: the Camino has something for everyone. It may bring you laughter. It may bring you strength. It may bring you new friendships, new love or a new job, or renewal of any of those things. It may bring you a newfound appreciation for the beauty of nature. It will likely bring you an appreciation of the culture, diversity and cuisine of Spain. And almost always, it brings you what you need, even if you don't know that you need it.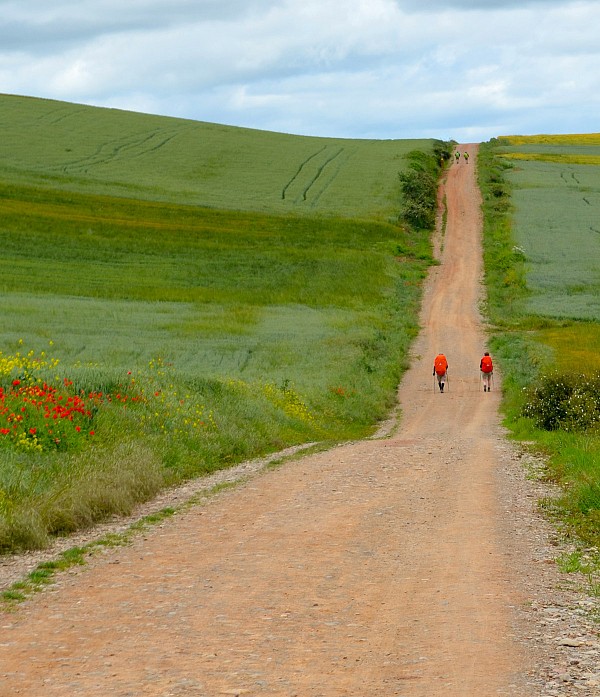 The Vancouver Sun features the Camino de Santiago as one of "The top 5 places to visit in 2020", and Duperier's Authentic Journeys is the recommended option!
Some testimonials
Wow! What a wonderful experience! I had the trip of a lifetime! The Camino was everything I had anticipated and Juan Carlos and his staff exceeded all my expectations. From arrival to departure, everything was arranged. Beautiful accommodations to call home after an excursion in the Spanish countryside, fabulous meals made with regional/seasonal ingredients and accompanied by local wines and great camaraderie —what a way to spend a holiday! Thanks Juan Carlos.

Michael Goodin
Walking the Camino with Juan Carlos Duperier was one of the most memorable experiences of my life. I cannot think of a better way to see Spain and experience what Pilgrims have for centuries. Juan Carlos is funny, knowledgeable and a fantastic guide. His home country is a feast for the eyes. Whether walking up a mountain laced with fog or going through fields of amazing wild flowers or following a herd of cows on their way home from spending their day nestled in the trees there was never a dull moment. Stork sightings were one of my joys. I was happy with all the accommodations, Juan Carlos took us to some fantastic restaurants and it was nice not having to carry all my belongings on my back. The energy on the road is like no other and I highly recommend this trip to anyone wanting to experience something different and perhaps it may even change your outlook on life.

Alexandra Genova