El Camino: A beautiful walk thru Spain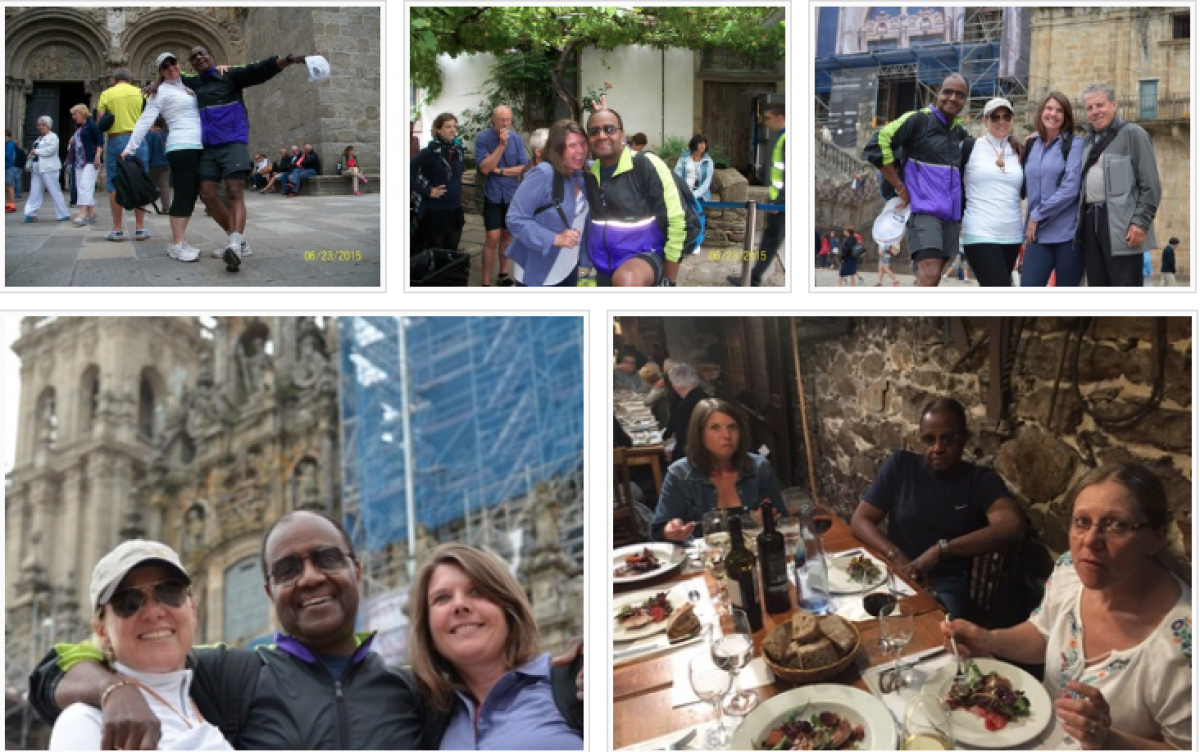 El Camino: A beautiful walk thru Spain
Written by Howard Samms, 2015 Duperier's Authentic Journeys Pilgrim. View the the original blog post.
The pilgrimage to Santiago started over 1000 years ago. People from all across Europe traveled to Camino de Santiago, Spain, the burial site of Apostle St. James the Great. For more on the history of this magnificent journey, visit the following web site.
Inspired by the movie, The Way, starring Martin Sheen, my wife and I decided to make the trip and we were not disappointed.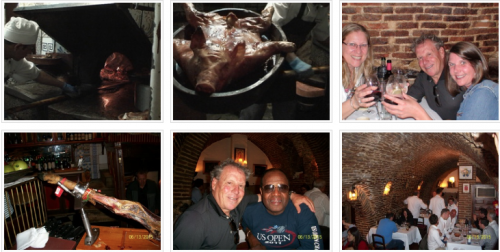 Pilgrims from all across Europe made this journey, so it is difficult to state just how long of a trip it was; it varied greatly, depending on your point of origin. That said, the starting point for the final leg is pegged in Southern France, in the town of St Jean Pied De Port –a hike over the Pyrenees, for a distance of approximately 500 miles to Santiago de Compostela. Over the years the pilgrimage has become very popular, giving rise to a slough of services along the way –hostels, places to eat and numerous rest stops. For the hardy, this is really the way to do the Camino, however, for those not willing to bunk in hostels, there's a much more accommodating arrangement. Authentic Journeys by Juan Carlos Duperier.

We flew into Madrid and journeyed by Train to Leon, the starting point of our walk. Juan Carlos made all the arrangements for everything –accommodations, dining and transportation; all we had to do was, well WALK. Our first night in Madrid we visited what was known to be the Oldest Restaurant in Europe - the Botin Restaurant. Their specialty was roasted suckling pig, prepared in the original brick oven created when the restaurant was bilt some 290 years ago.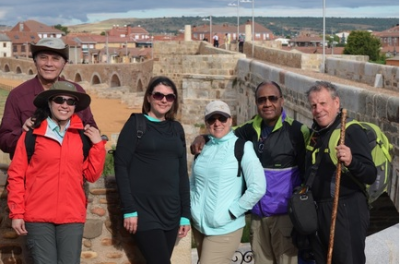 Everyone was up bright and early on Monday, ready to hit the trail. Breakfast was a sumptuous buffet and after cramming in the calories, we were ready to go. We arrived at our starting point after a 20 minute ride in the troop carrier. We all gathered for a kick off photograph and off we went.
The first two days of walking were challenging, to say the least. Albeit that everyone had prep'd for this event, none could escape the soreness and that feeling of having been pulled thru a meat grinder. But we persevered and by the morning of day three (3), we were pain free. On average we walked approximately 9 miles/day –some days more; others less, through some of the most beautiful countryside we had ever seen - lush and green and cool - we just followed the little Yellow arrows, as they pointed the way to Santiago. Our daily itinerary was predetermined –a total of 3 stops– two interim and the final. At each stop the troop carrier was there with bottles of water and for those who did not feel like walking any further, a ride to the end.
Another fun aspect of the journey was the people - from all over the world; young old and in between. For the most part many people formed lasting relationships on the trail. Stopping at the end of the day and starting out the following morning at exactly where you stopped the night before. This facilitated the friendship building, however for us, we almost never started where we stopped the previous day. We were shuttled to another location to start the next day. This was necessary because the total distance from Leon to Santiago was 180 miles; we walked approximately 90 miles of that. The remainder, we traveled in the troop carrier. Consequently, the people we met on any given day, we almost always never saw them again. That said, the people we met were adventurous, fun loving and great to talk with.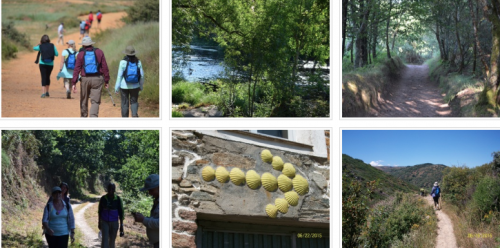 And of course there were the die hards - those who took things way too seriously. This individual, we believed made a wrong turn, some 500 years ago and is only now getting back on track - just kidding. Others were there to raise funds for some project only they understood; craftsmen and artist, alike all showing off their wares and hoping to make a sale or receive a donation. A standing trademark of the Camino was the shell, believed to have been retrieved from the shores around Santiago at the time St Jame's body was discovered. Over the years it became emblematic to the Pilgrimage and could be seen just about everywhere, along the trail.
As the trail meandered thru the country side, ever so often we would suddenly be walking thru a small village –people actually living on the trail, in these beautiful and exquisite little homes. Most of the folks were farmers with livestock, so encountering a herd of sheep or cows became a normal part of our walking routine… and as a gentle reminder of the real purpose of this journey, the trails were punctuated with crosses and alters. Pilgrims could be seen engrossed in prayer and/or placing photographs of love ones –living or deceased either at the base of the cross or on the alter. In addition, there were numerous churches and monasteries. On selected afternoons we had an opportunity to visit some of these religious landmarks –truly a rewarding experience.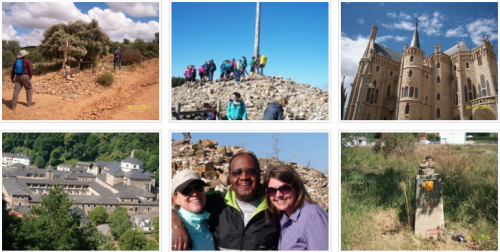 I would be totally remiss if I did not dedicate a section of this Blog to our culinary experience on this trip. Juan Carlos warned us at the outset that we were in for a Treat –and we all said, yeah, right. Well, he was right –from the very first meal, which was Sunday night in Madrid, to the last evening in Santiago. We squared off with solid meals every day. Breakfast kicked off with a great buffet, which was good, as we prepared to hit the trail. We usually concluded most days, no later than 1:00 PM and after a relaxing cocktail, we gathered for lunch. This, in most cases, was a 4 course meal, complete with an unlimited amount of delectable wines, specially selected by Juan Carlos, beforehand. For many, certainly for me, this meal was sufficient to carry me thru for the remainder of the afternoon but that was not to be. We gathered together, again at approximately 7:30 PM for cocktails and Tapas –the Spanish version of happy hour snacks. And, let me tell you, these Tapas were amazing, not only in volume but in variety and selection. Then it was on to dinner at 9:00. pretty much the same spread as lunch, but with a flare reserved for dinner. We wrapped up somewhere's around 10;30 with no idea of how we would be able to rise in the morning –but we did and surprisingly, feeling none the worse for the sins of the previous night. Spanish cuisine has been severely underrated. We all rave about French and Italian foods with very little mention of Spain –and I'm not talking about Mexican or Island Hispanic; this was authentic Castilian style cooking, a treat to be sure.
… and so it was, after trekking through west central Spain for the better part of 10 days, we arrived at our destination: The Catedral de Santiago, standing in the center of this City, dripping with history. Each day hundreds of Pilgrims pour into the city, having been on the trail for as many as 5 weeks or more. The jubilation and emotion were something to behold. Groups hugging each other in tears, others dancing and singing. Each day at noon the Cathedral holds a mass for all the new Pilgrims arriving. On this day the church was packed.
We walked the city, did some shopping, and stood in line to receive our certificates. a document written in Latin that stated we completed the El Camino pilgrimage. That night at dinner we were all somber –happy that we completed the trek safely; sad that such a wonderful adventure had to come to an end.
Did you like this article? Share it with your friends:
---