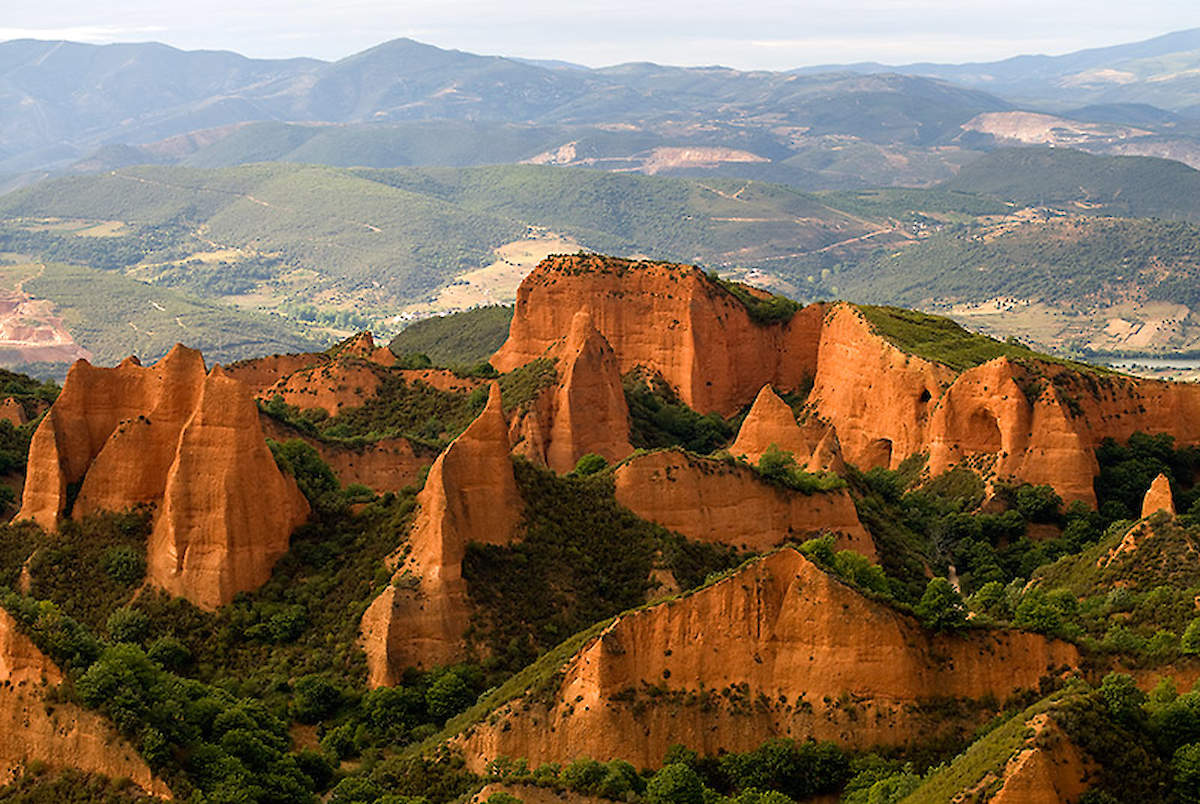 Fall in love with León
The first part of our Camino begins in the beautiful, historic city of León. The city boasts ancient monuments and pieces of history dating back to the 1st century AD. When we arrive in León, we begin our walk back in time along the ancient Camino.
The city of León boasts a rich ancient history that is fascinating to explore. León was occupied by the Roman 7th legion in the year 68 AD, although the region is thought to have been originally founded around 29 BC. With its origins stretching so far back into history, there are several interesting sites to explore in the city.
The Romans had originally occupied the region in the 1st century for one very lucrative reason – gold! A UNESCO World Heritage Site today, Las Médulas serve as a reminder of where the Romans used hydraulic power technology to mine for gold until they abandoned the project in the 3rd century. Shadows of their ancient human intervention, Roman flora and fauna, and natural processes remain, creating a unique and beautiful landscape on the outskirts of the city.
Roman influence remains in some of the region's most beloved architectural pieces. The city walls date back to the 1st century with expansion built up until the 4th century. Some of the most beloved and visited sites that we will visit during our tour are Real Basilica de San Isidoro, Catedral de León, and Casa de Botines. The Real Basilica de San Isidoro is a stunning Roman structure founded in 1063 AD by Fernando I and Doña Sancha originally created to house the remains of Saint Isidoro, themselves, and other Leónese monarchs. Eye-catching biblical scenes and artwork adorn the inside of the Basilica, along with a small museum including a 10th century Visigoth-Mozarbe bible and a shrine to Saint Isidoro including one of his mummified fingers.
The 13th century Catedral is perhaps the most celebrated gothic structure in all of Spain possessing a remarkable façade with 128 stained glass windows covering 19,735 square feet of space. Casa de Botines was designed by renowned architect Antoni Gaudi in 1893 AD, contributing his gaudy Catalan influence to the skyline of León.
Once we leave León, our first stop on the path will be Hospital del Orbigo, site of a magnificent ancient Roman bridge that was the center of several important military battles, including defeating the Moors to regain the land for the Kingdom of León, and a series of 300 jousts undertaken by a famous lance to win the love a lady, who then became a pilgrim and walked to Santiago. Next stop, Astorga.
Did you like this article? Share it with your friends:
---