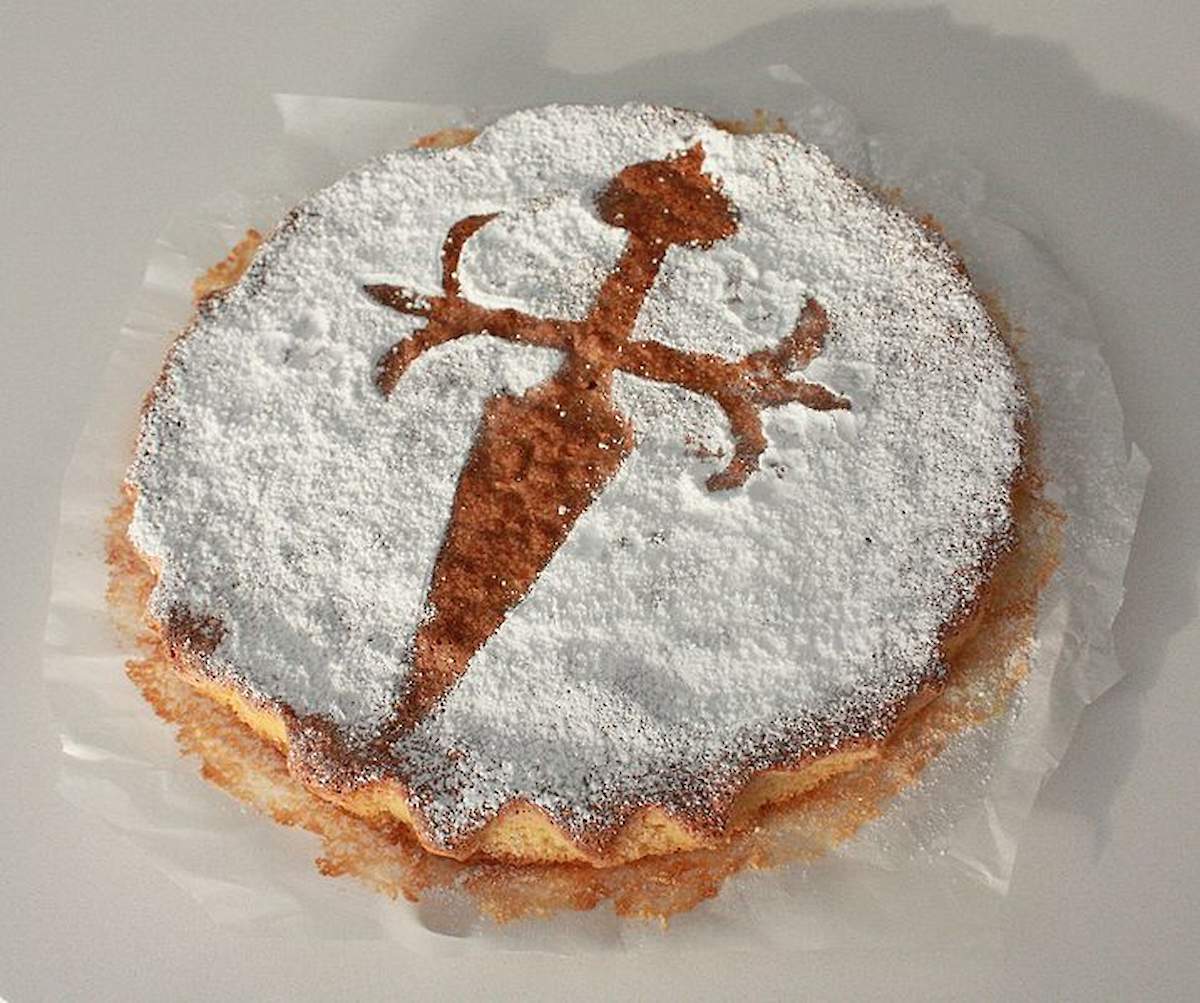 Saint James cake
We often write about the amazing seafood, soups, and wines of Galicia, but Tarta Santiago or Saint James Cake is a local sweet that is worthy of its own blog post. Tarta Santiago is a typical dessert in Galicia, especially Santiago de Compostela. It's made of almonds and it's sweet, soft, and mouth-watering – as well as beautiful!
Its origin is unknown, although graduate students at University of Santiago in the 16th century offered it as a gift to their professors. Part of what makes it a luxury, and a bit of a mystery, is that almonds were not grown in Galicia, yet are the principal ingredient of the cake.
Today, the top of the cake is decorated with a Saint James cross, but that didn't start until 1924, when the Casa Mora bakery first did it. Now it is its principal distinctive feature.
Casa Mora and A Troia bakeries, both close to the Obrador square in Santiago, offer this succulent and delicious cake of Saint James, but it is common in many restaurants along the Camino as you get close to Santiago.
If you like it and want more back home, you can make it following this recipe.
Cake Recipe
Ingredients: 250gr. ground almonds; 250gr. sugar; 1 lemon; 5 eggs; powdered sugar; cinnamon.
Preheat the oven to 350 degrees.
Mix the sugar and the eggs, then add the lemon zest and some cinnamon; mix in the ground almonds.
Grease the tin with olive oil or butter, and pour in the mixture.
Put in the oven for 50 minutes, check from time to time until it looks golden.
Once it is cold, put a paper-made Saint James cross on top and sprinkle with powdered sugar.
An excellent drink to accompany this cake is the aguardiente gallego de orujo: a liquor made from grapes, but herbs and sugar can be added -aguardiente de hierbas- or caramel to become aguardiente tostado. You can also drink cremas de orujo, similar to Irish cream, with it.
Enjoy Saint James Cake!
Did you like this article? Share it with your friends:
---