Tapas & pinchos: Camino de Santiago culture from Roncesvalles to Burgos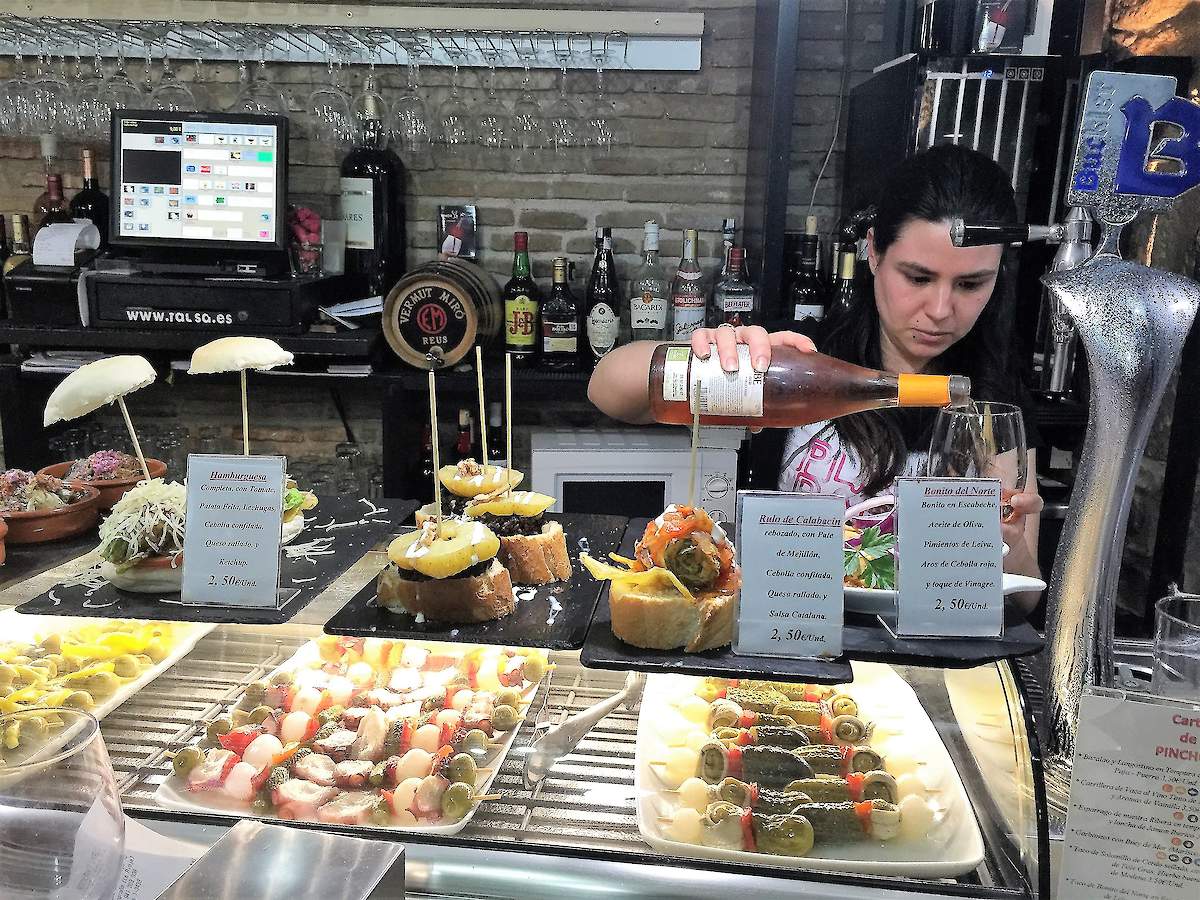 Tapas & pinchos: Camino de Santiago culture from Roncesvalles to Burgos
As you are reading this post, tapas are being served in bars and cafés throughout Spain. They are so much a part of the culture and social scene in Spain, that people often use the verb tapear, which means to go and eat tapas. Tapas keep the Spanish fueled for their journeys from bar to bar before their midday meal, as well as in the evening before dinner.
Although the general concept is widespread throughout all Spain, there are some places that are famous for the sheer concentration of tapas bars in their streets. Some of the most popular tapas cities are found along the French Way that we walk from Roncesvalles to Burgos. The three main tapas cities in which we stop are Pamplona, Logroño, and Burgos.
In Spain, tapas can include virtually anything, from a chunk of tuna, a cocktail onion, and an olive skewered on a long toothpick, to piping hot chorizo sausage served in a small clay dish, to a gourmet slow-cooked suckling pig cheek served over a creamy potato puree.
In every city you will find traditional tapas from a platter of shared manchego cheese, jamón ibérico, or chorizo to a slice of tortilla española (Spanish potato omelet). Patatas bravas are also a classic: lightly fried potatoes covered in spicy brava sauce (brava means corageous or fierce) with a crispy outside and a creamy inside. The same potatoes are sometimes steamed and served with garlic mayonnaise and called patatas alioli.
Another truly classic Spanish tapas featured throughout the entire country is gambas al ajillo (garlic shrimp), full of freshness of garlic flavor. In this popular dish, fresh shrimp are sautéed in olive oil and lots of garlic, with a touch of dried cayenne pepper and served on a small clay dish with the oil still sizzling. The shrimp continue to cook with you as a spectator, and the shrimp-infused oil doubles up on the flavor.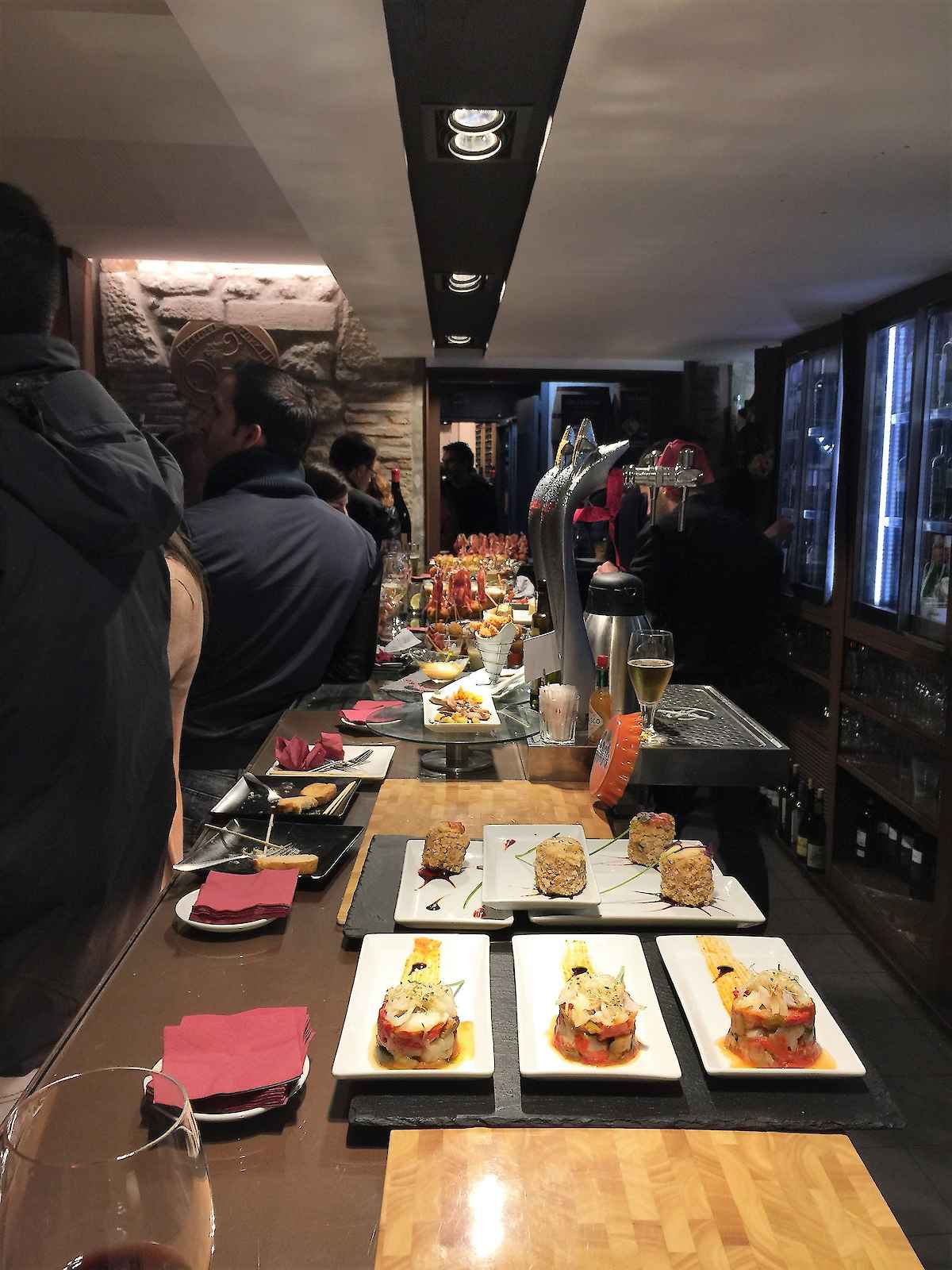 Tapas chefs today have added a touch of creativity and elaboration to great classics and you can now find small portions of extremely delicate combinations that will fill your memories along with your stomach.
As we start our Camino in Pamplona, the capital of the Navarra region, we find a version of the tapa called pincho or pintxo (meaning "thorn" or "spike"), a small snack typically eaten in bars throughout northern Spain and especially popular in the Basque country and Navarra. They are usually eaten as a small snack while hanging out with friends or relatives; thus, they have a strong social component. In northern Spain they are usually regarded as a cornerstone of local culture and society. Pinchos are usually 'spiked' with a skewer or toothpick, often to a small slice of bread. And, you can almost always combine bread with everything, hot or cold, sweet or savory. Pinchos are tapas that you usually find over the bars in big plates ready for the customer to pick up with their hands. The pincho or toothpick helps retrieve the tapa at the same time it holds the combination of bread and tapa together.
As we advance on our way to Burgos, we stop in Logroño, the capital of La Rioja (famous for its wines), with hundreds of tapas bars in its medieval old town. Almost 50 of them are crammed into a single block about the size of four tennis courts along the famous street Calle del Laurel. As a stop-off point for pilgrims en route to Santiago de Compostela, a fierce competition would be expected, but Logroño has worked out a simple solution: each bar specializes in just two or three tapas along with the traditional ones. With this solution, there are no rival restaurants and everyone gets to go from bar to bar for a full tapas tasting.
Our last stop on the tour is the city of Burgos, the traditional juncture between central and northern Spain. Here, we can also find a wide range of tapas that include a great variety of local products, including the world-famous morcilla de Burgos or black blood sausage with rice or cojonudo, fried quail egg, a slice of spicy roasted red pepper, and a piece of chorizo. These are just some examples of the city's gastronomical bounty that can be tasted along with the famous Ribera del Duero wines.
The tapeo or tapas bar spree, reflects the Spanish approach to life. This itinerant tasting stems from an unabashed love of play and pleasure. Because home entertaining is uncommon in Spain, tapas bars serve as de facto living rooms: Places to eat, relax, meet friends, watch a game, have a quiet drink, chat with the owner. Tapeo tends to be a kind of barhopping, where people typically order only a few tapas at each stop, with shots of wine or small glasses of beer in between.
Every part of the Camino de Santiago has its own particularities and the first part of the French Way to Santiago, where we walk from the French border to Burgos, has a lot to offer in terms of tapas culture. As much as you will love the seafood of Galicia, the northeastern tapas routes of Pamplona, Logroño, and Burgos will surely win your heart.
¡Buen provecho!
Did you like this article? Share it with your friends:
---