Gearing up for the Camino de Santiago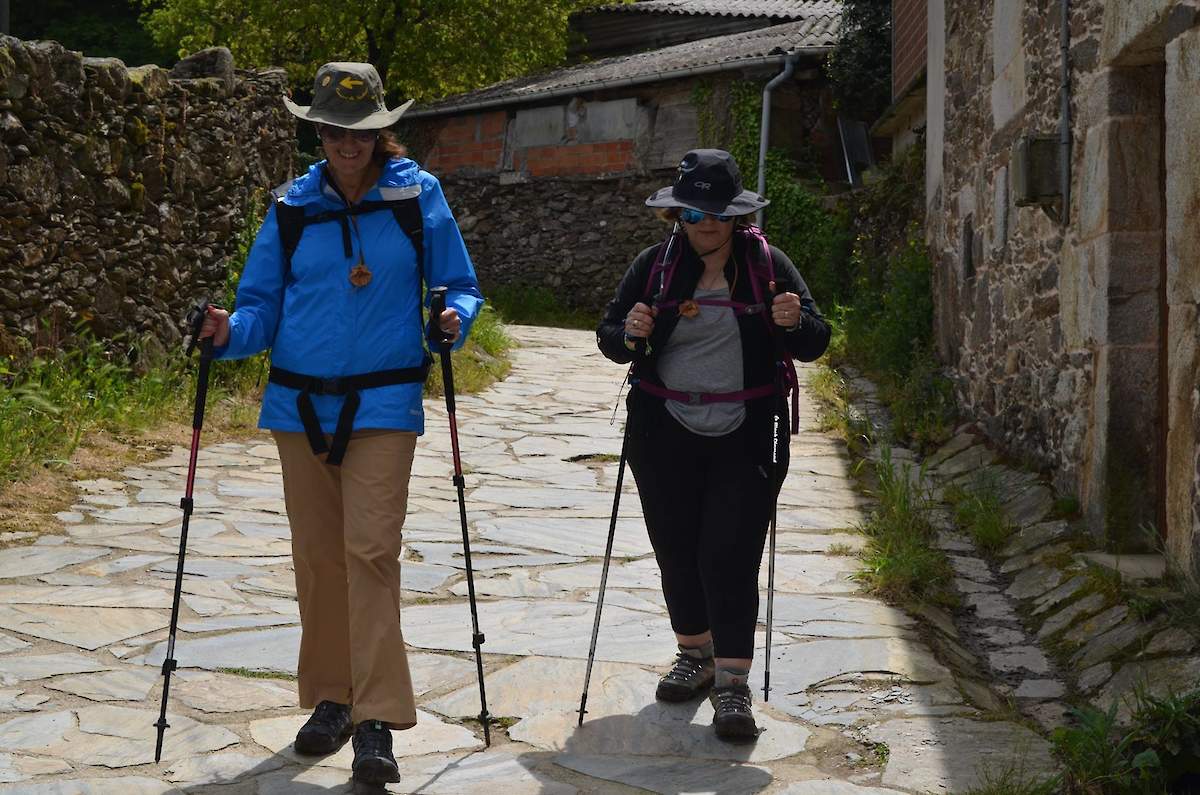 Gearing up for the Camino de Santiago
You've reserved your spot on a Duperier's Authentic Journeys tour and your plane tickets are booked, now all you need to do is pack to get ready for your Camino de Santiago adventure. So, what do you need to bring?
Your belongings will be transported in our private bus throughout the Camino, so you will never need to worry about carrying your luggage while walking, however space is limited, so we ask that you bring one larger suitcase and one personal carry-on item, such as a tote bag or backpack.
As you prepare to walk the Camino with our recommended exercises, make sure to break in your walking shoes. Your shoes will be one of your most prized possessions during your walk. We recommend you visit an athletic shoe store where an associate can help you choose a hiking shoe brand that fits your feet best. Waterproof or Goretex material is suggested for any wet weather conditions that may arise. While you will want to wear hiking shoes, big hiking boots will not be necessary, as the terrain of the Camino will not require that type of shoe. As with all shoes, you will need socks. We recommend you try walking with different socks of different sock materials before you leave to see which kind you prefer.
As with traditional Camino pilgrims, we highly recommend walking with one or two walking sticks. Trekking poles or walking sticks are incredibly helpful as you navigate the Path. You can either bring an adjustable, high-tech version, or purchase a walking stick when you get to the Camino. There are a variety of great brands to choose from on the market. Note that your sticks must be measured to ensure that they are at the correct height for you.
Weather conditions on the Camino vary by region, season, and day. Mother nature may bring us sun or rain on any given day, so you should be prepared to dress accordingly. In case of rain, it is essential to bring a rain jacket. Along with a rain jacket, we recommend you bring rain pants as well. Additionally, casual hiking pants are a necessity and can be worn for both hiking and going out for meals. Convertible hiking pants/shorts are also a great idea.
No matter the weather, you will want to protect your face and skin, therefore, another essential item for your walk is a hat. We recommend a hat with waterproof material and brim.
Furthermore, you'll want to bring t-shirt base layers (short and long sleeves as needed), pant base layers as needed, a long-sleeved top layer shirt, casual top shirt (cotton or a breathable synthetic material), synthetic t-shirts, shorts, and bottoms.
Other items you will need to pack include:
Water bottle
Toiletries
Sunscreen
Basic foot protection/first aid such as bandages or mole skin and ibuprofen (Note: we will also have first aid supplies on hand, but it's a good idea to bring your own)
Passport
Driver's license
Private health insurance card
Credit and debit cards
Pilgrim credential (we will provide this item for you)
If you're looking to save space in your suitcase, we highly recommend looking in to investing in Packing Cubes. Packing Cubes keep your belongings organized in your luggage and maximize valuable packing space.
Now that you're covered from head to toe, you're ready to enjoy your Camino adventure in comfort and luxury!
*Please note that the packing list above is for individuals who are joining us on a Duperier's Authentic Journeys tour. Other Camino pilgrims may need to pack additional items.
**Individuals joining us on a tour will receive a comprehensive packing list with brand recommendations in their welcome packet in preparation for the tour.
Did you like this article? Share it with your friends:
---