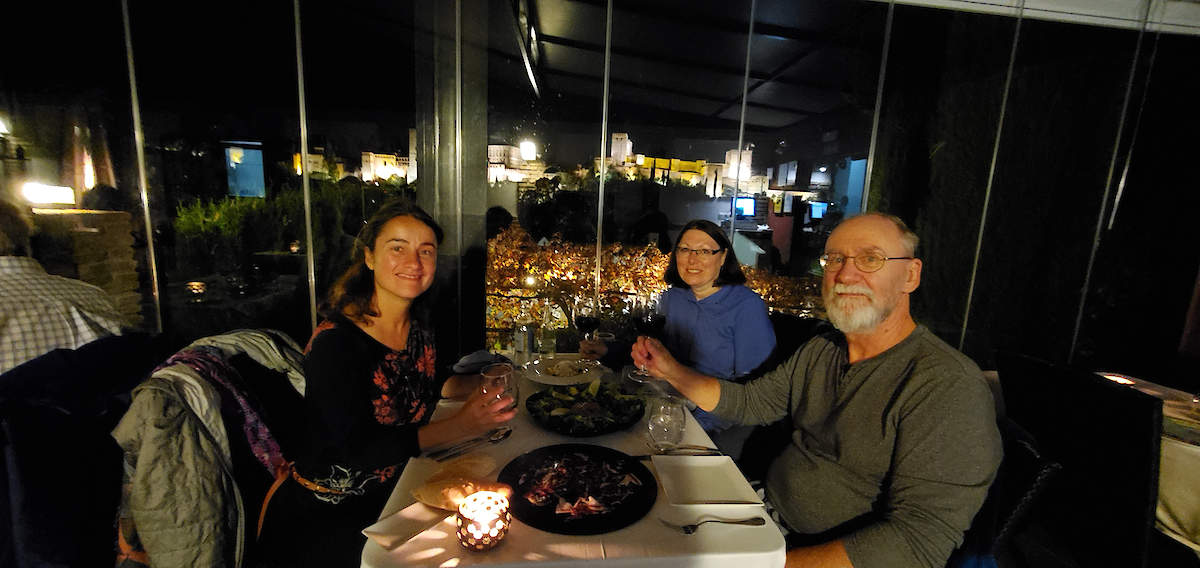 On Tour in Andalusia
Duperier's Authentic Journeys had its inaugural tour of Andalusia in 2019, and the verdict from the group members Sandy and Ramsay Stallman is that we delivered an awesome experience.
Those of us who have walked the Camino de Santiago with Juan Carlos Duperier and Belen Jorge will agree that guests are provided a robust, real and rich travel experience. Each day brings new adventures of walking through beautiful landscapes, exploring special places and enjoying the Camino hospitality culture with exceptional accommodations and luscious food and wine that are beyond expectations. Duperier's tour in Andalusia provided a similar experience.
In October 2019, we traveled with Belen to explore Andalusia on the first offering of the Nature and Cultural Tour of Andalusia. It was one of the best trips we have taken, and Belen was a fantastic and very knowledgeable hostess.
Belen's knowledge of southern Spain, its long and varied history and culture is vast. Southern Spain is her home, she knows it well and she loves to share it with others. Unlike the rest of Spain, the area is highly influenced by Arab culture as they dominated the area from the 8th to 14th centuries. The highly advanced Moorish art, architecture and gardens have been well preserved, and pose a striking contrast to later Spanish and European styles.
The itinerary, however, reaches well beyond the amazing art, history, and architecture. Amazing food, wine and nature combined to balance and heighten the experience. Belen asked about our special interests, which include history, architecture, and gastronomy, but we also love to explore gardens, plants, trees, beautiful landscapes, and to walk in nature. These interests aligned well with this wide-ranging itinerary. While each day offered enjoyable experiences, these are some of the highlights:
Seville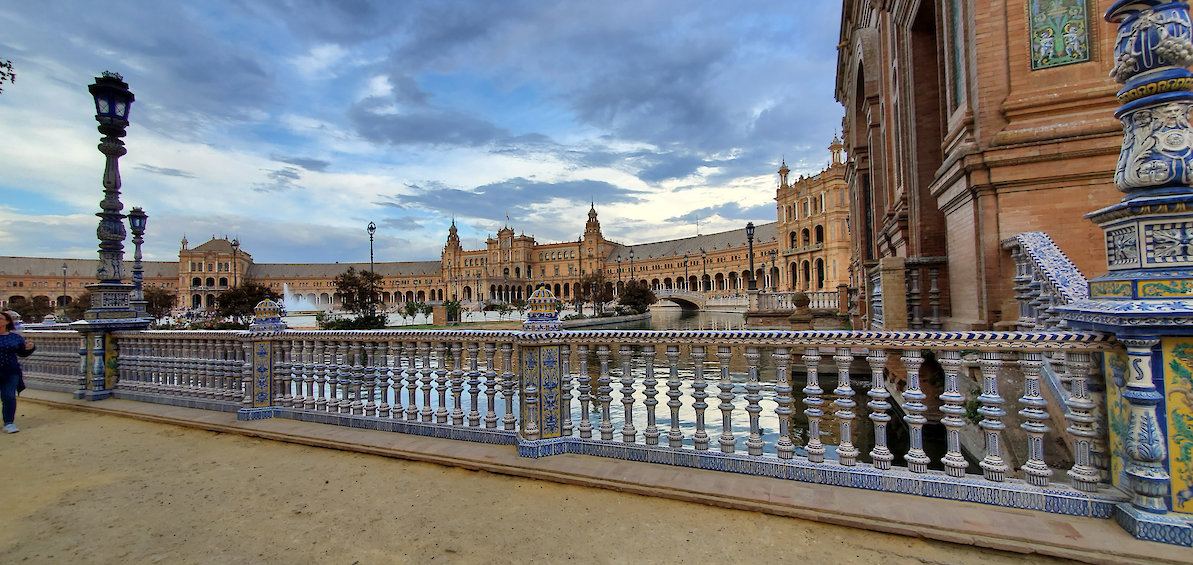 We had a great first night in Seville as we strolled the expansive Parque de María Luisa (María Luisa Park) and Plaza de España on our way to dinner. The park and plaza were built in the late 1920s for the Exposición iberoamericana de 1929 (Ibero-American Exposition of 1929) and was used for the Spanish exhibit of industry and technology. Around the crescent are tiled scenes from each province in Spain and four tiled bridges over the surrounding canal. The architect, Anibal Aníbal González, also built many grand buildings in Seville that include a signature mix of styles and elements.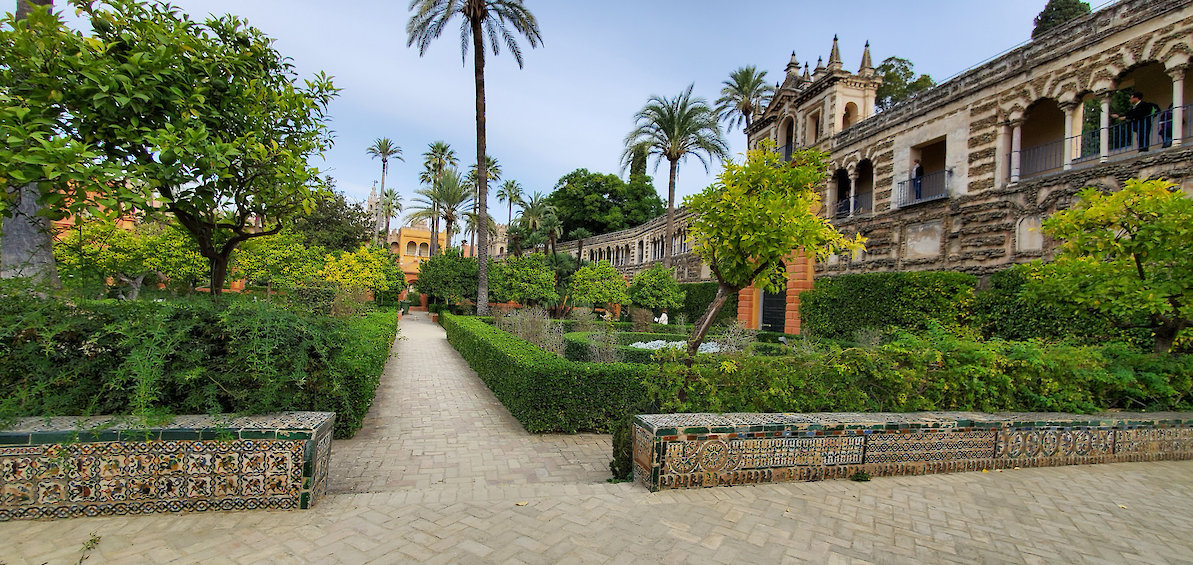 The Alcázar in Seville was originally built on Roman ruins by the Moors in the 8th century. Over time, it was expanded by succeeding dynasties and became a favored residence of Spanish kings after the Conquest. The Alcázar's extensive gardens offer a maze of symmetrically designed outdoor rooms with diverse plants, fountains, tiled features, and areas of respite. Perfect for strolling on a warm day.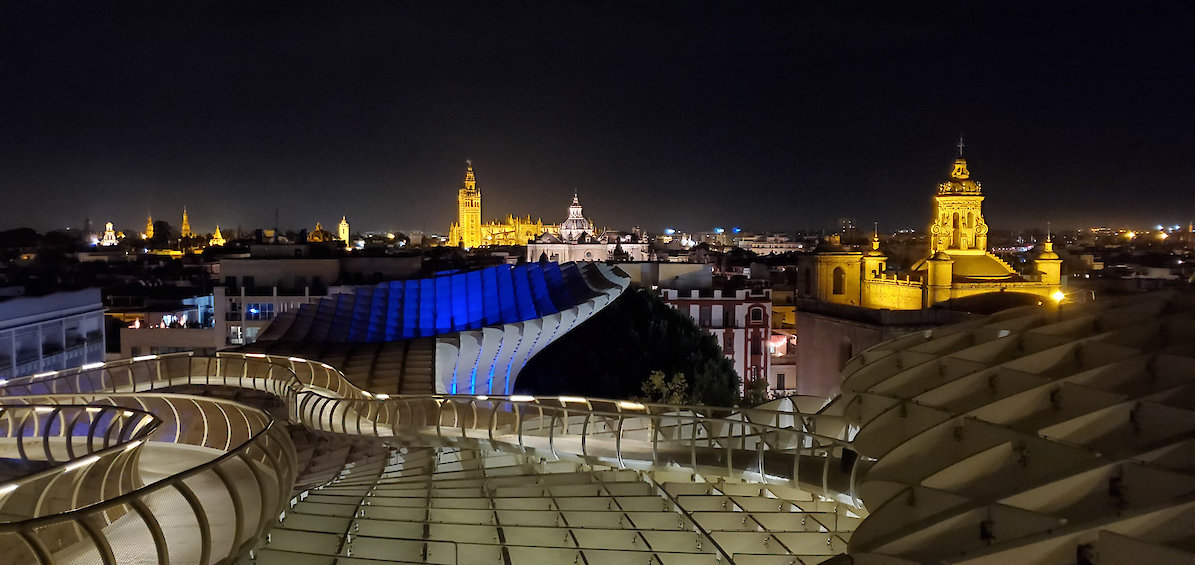 After dinner on our second night in Seville, we wandered the city admiring the lively nightlife and lighted ancient minarets that are now church bell towers. We came across the Metropol Parasol, which is a large, mushroom-shaped structure shaped built in 2011 above the central market. It houses the Roman and Moorish archaeology museum upon which it is built and walking along its rooftop walkways provides the best view of the city in all directions.
Vejer de la Frontera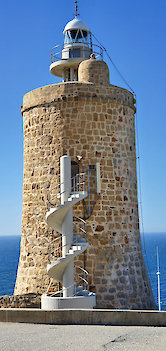 This beautiful historic small hilltop town is the perfect base location for the activities we enjoyed in the area. All the buildings are white with interiors in the Moorish style. A labyrinth of streets draws you around mysterious corners. Views from various points around this small town are stunning. We had a view of the main plaza from our room at our small luxury hotel, which was charming with a beautifully tiled fountain, benches, light posts, palm trees, and statuary. Dinners while in Vejer were memorable. The first evening, after a sunset horseback ride along the beach to the lighthouse at Cabo Trafalgar, we dined at a famous seafood restaurant where we chose our fresh fish from a wide array of the day's catch. We dined to the sound of the waves and watched the moonlit sea. The owners knew Juan Carlos and they made us feel like special guests. Our last night in Vejer, we dined at our hotel's Michelin-starred courtyard restaurant following a day of coastal hiking along the Barbary Coast.
Gibraltar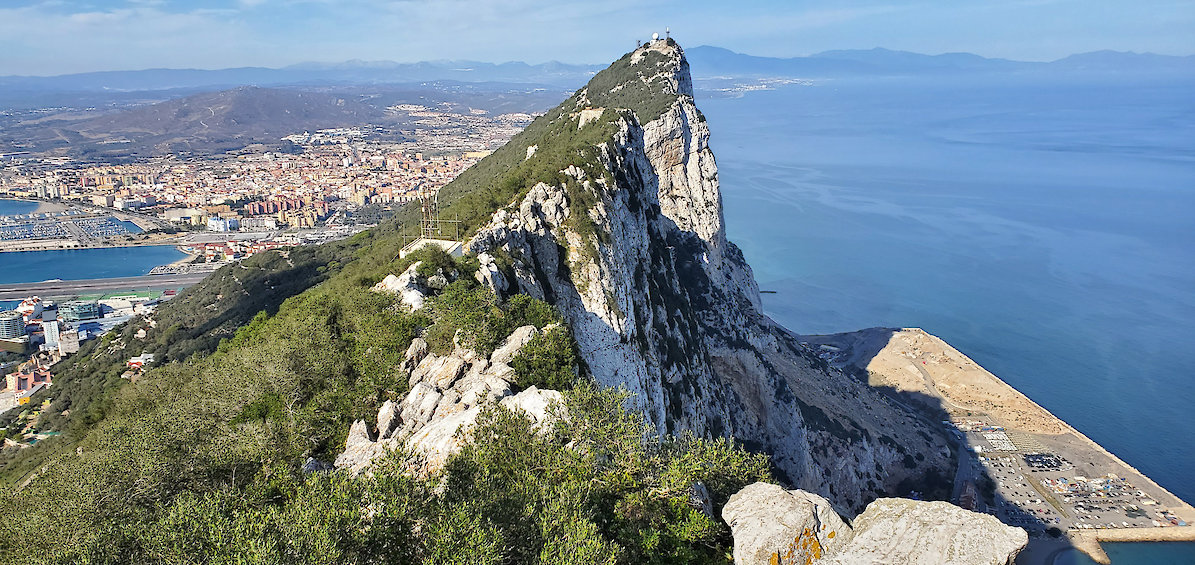 In addition to our visit to Andalusia, we took a detour to Gibraltar, located on the southern edge of Andalusia. A cable car up to the top for incredible views and a beautiful walk though parkland all the way down. Then a walk through its very British town. Gibraltar offered it all. Oh, and of course, there were the famous Barbary monkeys too.
Granada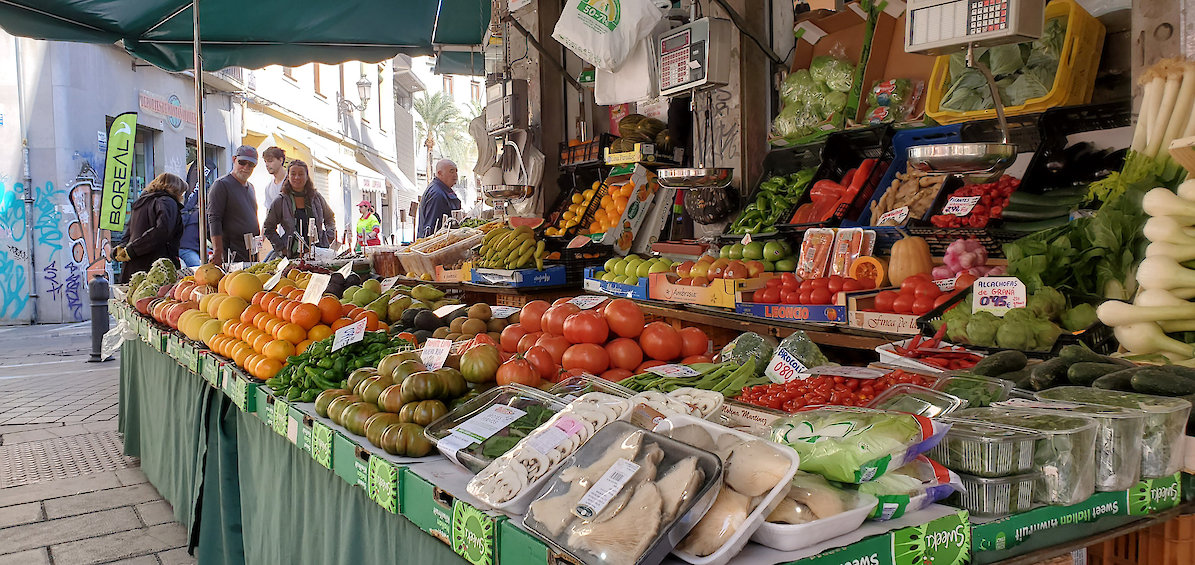 Upon arriving in Granada, we went on an evening stroll that had us chasing beautiful sunsets around the winding ancient hilly streets of Granada before dining in the shadow of the Alhambra. It was such a memorable view and meal. A tour of the Alhambra and Generalife the next day allowed us to explore this expansive palace complex where Moorish design demonstrates the advanced aesthetic values of its ancient inhabitants.
Caminito Del Rey
The 7-mile leisurely hike along the boardwalk suspended along this beautiful gorge was definitely a highlight of the trip. Not for the faint of heart, but the views and scenery were beyond words.
Malaga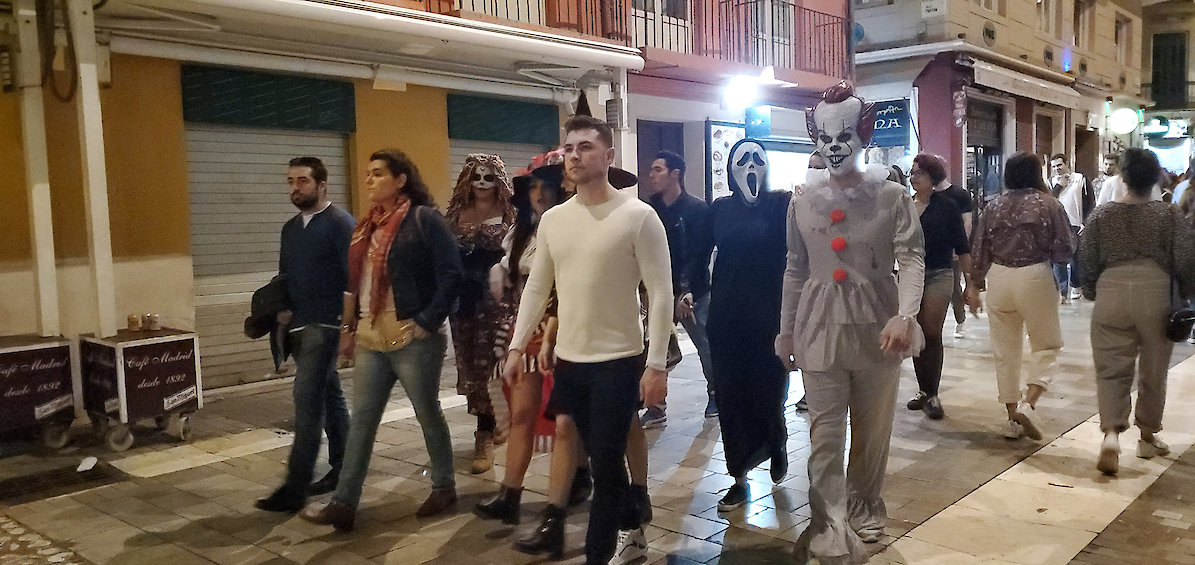 This modern, hip seaside city feels a little like Miami but with the mosaic of Roman, Moorish, Jewish and Christian history. A lunch at the expansive Malaga market was special. We were in Malaga on Halloween and participated in the festivities, including the Zombie Walk that brought out crowds of ghouls wandering throughout the town.
While these are a few of the highlights, every day was a pleasure and different from the next. We also got to experience flamenco and horse shows, sherry tasting in Jerez, the incredibly beautiful town of Ronda, the Baelo Claudia Roman Ruins at Bolonia beach where we enjoyed a fresh seafood lunch in the shadow of the ruins by the sea, and dolphin watching in Tarifa. Duperier's Andalusia tour offers rich, authentic and varied experiences, excellent food and wine, and, of course, Belen.
Did you like this article? Share it with your friends:
---