La Rioja Harvest Festival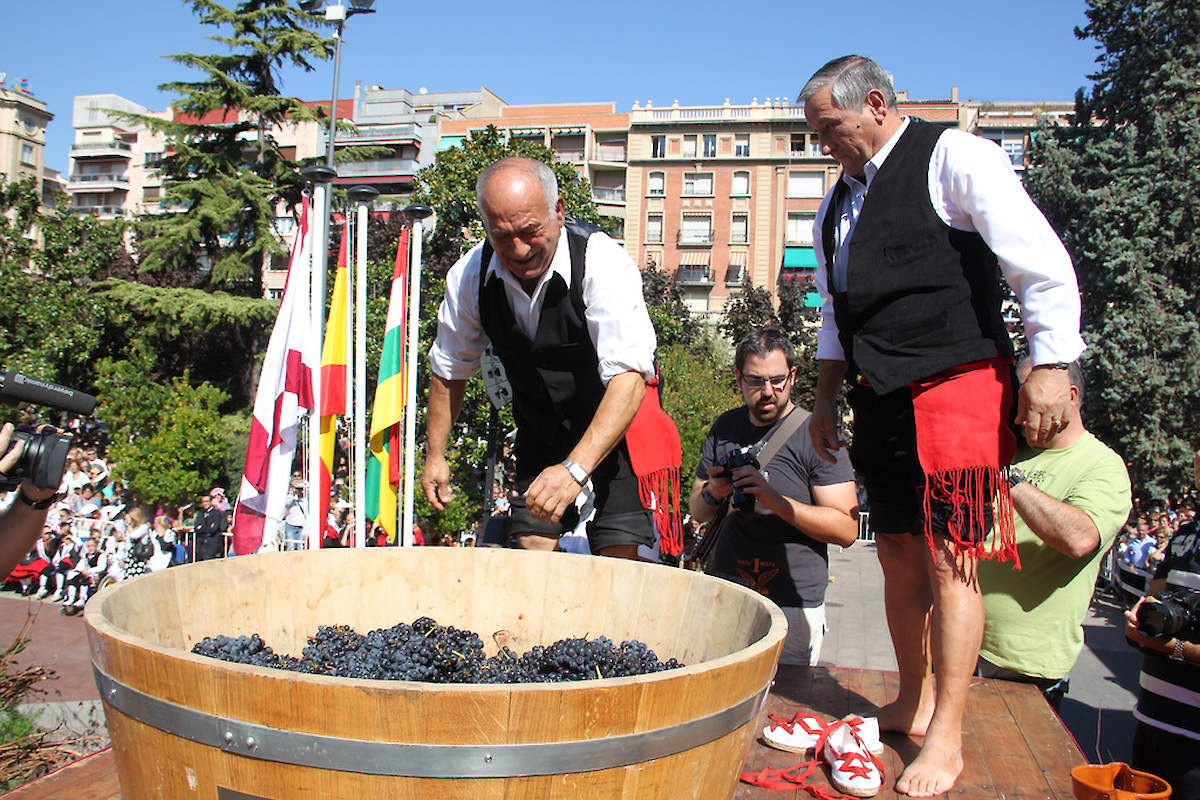 La Rioja Harvest Festival
At Duperier's Authentic Journeys, we strive to provide the best food and wine that Spain has to offer. Our regular tour from León to Santiago passes through two wine regions, and we are able to sample some little known and delicious wines along The Way. But the most famous wine regions in Spain are La Rioja and Navarra, which are world renowned for their red and rose wines, respectively. Beginning in 2017, we will have two tours (in June and August) that run from Roncesvalles to Burgos in the northeast part of Spain, and which will have a focus on the spectacular wine of these regions. We will be walking The Way among many vineyards as grapes are beginning to reach their peak for harvest.
Spaniards are always happy to have a reason to celebrate, and in late summer and early fall, grape picking begins and the Riojan Harvest Festival is celebrated in September each year. The Harvest Festival pays homage to the patron saint of the city of Logroño, San Mateo, and the city hosts several wine-related events. The festival kicks off with the Chupinazo (loud bang) of a rocket set off in the middle of the town hall square. After this, youth take to the streets to start food fights and water is thrown from the balconies of homes overlooking the main street. People then head to a wine fountain where red, white, and rose wine flows.
The fiesta then continues on for a full week packed with various activities. Some of these fantastic events include public wine tasting, an international fireworks contest, live music, theater productions, bullfighting, and the "Treading of the Grapes," where participants wear traditional Spanish dress and stomp the first grapes of the season in a large wooden tub, which they then offer to the Virgen de la Valvanera, the patron saint of La Rioja.
While in the La Rioja region, wine lovers can learn an extensive amount about the wine cultivation and creation process, and tour through vineyards. In addition, many wineries along the La Rioja wine route offer wine tasting courses. Some people also tour the region via horseback, bike, canoe, or hot air balloon.
We're excited to share the wine and traditions of these beautiful wine growing regions with our clients on this new tour in 2017. Contact us for more information about the new tour at [email protected]. Learn more about the tours from León to Santiago and make your reservation today.
If you liked this post, you may also like to read:
Did you like this article? Share it with your friends:
---